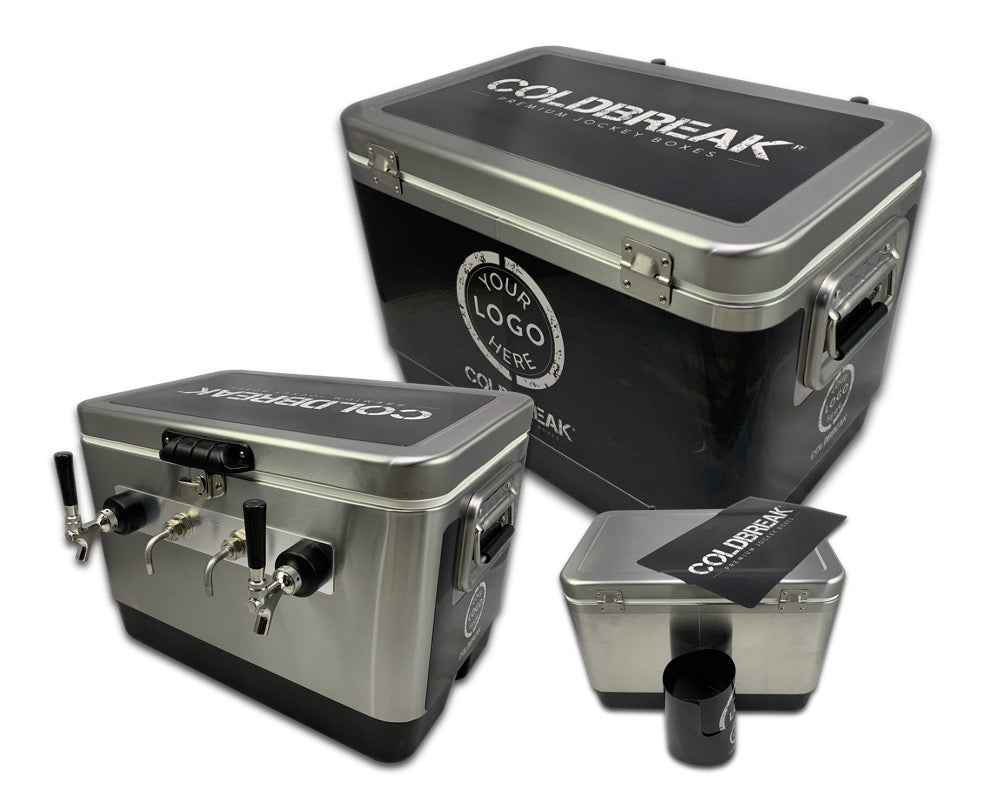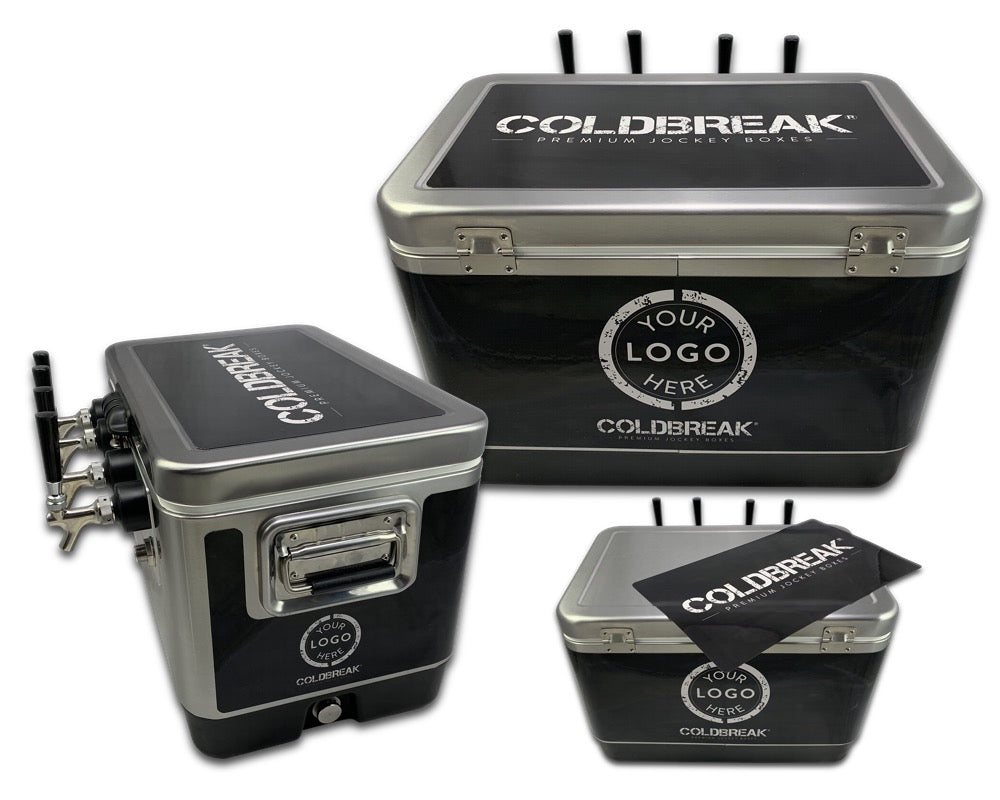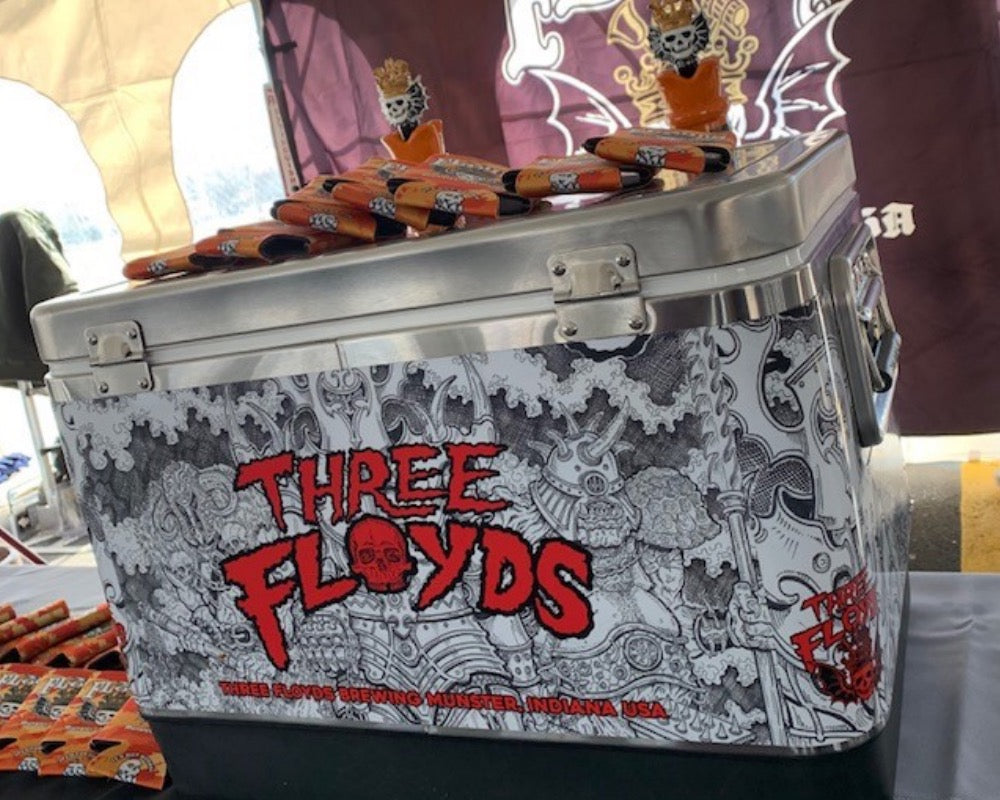 Magnetic Wrap
---
3/4 Magnetic Wrap + Top
Magnetic wrap only (does not include jockey box)
Fits our FRONT input jockey boxes. 2, 3, & 4 tap.
Artwork created by you
Download our template and add your high quality artwork to the file. The downloadable file can be found below in Appendix B, below.
Once you place your jockey box order, your artwork can be emailed to: wrap@coldbreakusa.com.
Artwork requirements listed below in appendix A.
If you have a large file, please let us know and we can send you an upload link to our Cloud Storage.
After you email us your artwork, Premier Graphics will transfer your files into their software and make sure everything lines up correctly. We then send you a digital proof to approve.
We will send you a digital proof in 2-3 business days. That proof must be approved in writing (email). Your order will then be scheduled for production.

We do not print anything until you approve final artwork.

Upon request and for an additional fee, we can send you a small test print of your wrap prior to production. Please note that this will delay your scheduled production date, which is always dependent on your final approval.
Wrapped orders typically arrive 2 weeks from proof approval date (not the day you ordered). 
DELAYS & DEADLINES
If you have an event coming up that you are purchasing your custom jockey boxes for please relay that date to us.
Any delays in communication will delay your jockey box.
Any delays in artwork will delay your jockey box. 
Print ready artwork means that you provide us with files that we can print directly from exactly as is. If we find errors in your artwork, we will reject the files and provide feedback on the changes that need to be made. We've compiled a quick guide below to hopefully help with any questions you may have. 
Print Install Requirements
High resolution, professional software files that have been designed on our template.

EPS files are preferred. See below for other file-specific requirements.

JPG & TIF files are not accepted.
Submit one file for the (1) top/lid, and (2) the body/sides of your jockey box.
Once you finalize your print-ready files, regardless of its accepted file types, please provide a screenshot or JPG for us to use as a reference point to ensure nothing gets altered during transmission.
Color
Color pallet is RGB (never CMYK). Pantone colors are better represented with RGB on a large format printer. If your branding requires a near exact match on color, we will require Pantone COATED color codes. Keep in mind that no printer will be able to precisely recreate all available tones.
Resolution
All images provided for printing must be at least 300 dpi/ppi. All wraps will be printed at 300 dpi. We cannot increase the resolution of your files. If they look blurry when you send them to us, they will print blurry.
Other File Types Accepted
PDF Files (.PDF) — Require professional, vector-based software or industry-standard imaging and photo editing software. 
Adobe Illustrator (.AI) — Convert all text to "outlines" and embed all images. All colors need to be RGB. Save as an .eps or .ai file.
Photoshop (.PSD) — All colors and images need to be RGB (not CMYK) and set at 300dpi.  Our provided templates are to size and ready for print.
Corel Draw (.CDR) — Convert all text to "curves." We are able to use most Corel files as-is.  We will let you know if we encounter any issues.
Flexisign (.FP) — Convert all text to "outlines" and rasterize all images. We print directly from Flexi.  We will let you know if encounter any issues.
3/4 Magnetic Wrap
Front Inputs (2, 3, & 4 tap)
Input Location: Front — The beverage lines coming from your keg connect to this jockey box on the same side as the faucets.
Download: Choose the best file type for your software. 
Applying
The magnetic decal should be at room temperature (min 60º F) or above.
Do not apply a magnet that has been stored curved with the magnet side out (see storing).
Ensure your jockey box is clean and free of debris.
Affix gently, starting with one side and working its way around your jockey box. Do not place over any manufactured components or allow for air pockets to form.
If positioned incorrectly, remove the decal completely by lifting at its sides (not its corners) and reaffix. Do not pull the magnet wrap into place.
Do not use on any other products or materials.
Cleaning
Between each use, clean both sides of the decal (printed and magnet sides) with a mild detergent. Wipe with a soft, non-abrasive cloth.
Allow magnetic wrap to air dry completely.
Do not expose to harsh chemicals
Do not store on the jockey box
Storing
When not affixed to your jockey box, keep it clean and dry. Store flat, and do not store anything on top of it and do not stack with magnetic sides facing each other. If not stored flat on a clean surface, store rolled on end with the printed side out. We like putting them on a refrigerator or freezer.